nCall - software for Call Answering and Virtual Reception services

nCall is one of the most user-friendly and sophisticated Telephone Answering Service (TAS) and Virtual Reception Software package on the market today. Developed in conjunction with our clients in the UK, USA, Australia and New Zealand, our answering service software ensures that your telephone operators will always deal with your clients' calls in a professional manner.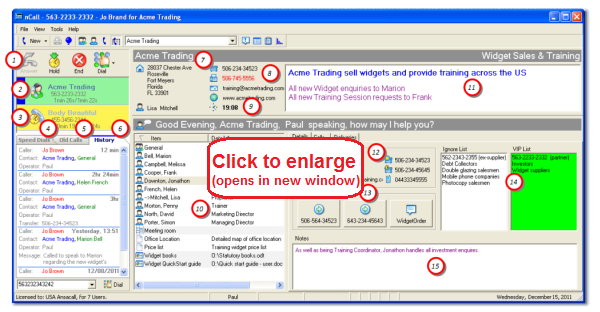 nCall's unique "ClientView" screen gives your operators all the information they need on one view so they can answer the call professionally with a faster speed of response, a greater attention to detail with fewer errors and increased efficiency. nCall is so easy to use that it requires little training for new operators - a new operator can be professionally handling calls in fifteen minutes.
| | |
| --- | --- |
| With the power of the nCall system, messages taken by the operators are automatically sent according to your individual client's preferred manner - e.g. call forwarding, sms message, email, fax etc. This simplifies the call process for the operators leading to reduced errors and happier customers. | |
The software automatically logs all calls for follow up activities, including statistical analysis reporting and client billing.

Our answering service software works "out of the box" and is extremely quick to get up and running. It will also integrates with your existing phone systems and office processes.
nCall is fully tailorable. No two Answering Service providers work in exactly the same way, so the solution is fully customisable to meet the requirements from your most demanding customers.

The software is fully scalable. It supports any number of operators and any number of calls so your use of nCall can grow as your business expands.
With a dedicated customer support our services are second to none. We know that your Phone Service clients require a professional response and we know that our job is to help your business thrive.

Telephone Answering Service software is tried and tested and used throughout the World. From our first release in 2003, there has been a major product release every year.
To learn more
View our screen shot tour now or request the link to our comprehensive online video demonstration to really see how easily your operators will be able to service your customers.


Copyright nSolve Limited 2018. nSolve and nCall are registered UK trademarks of nSolve Ltd. (Cookie and Privacy policy) Sitemap