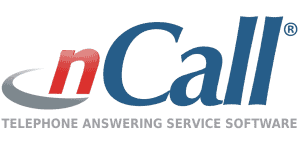 nCall – the definitive answering service software solution.
nCall is the most advanced dedicated telephone answering service software solution available, and has been used by successful inbound call centers, virtual receptions and business centres all over the world for the past 15 years. All the information your operators need to answer a call professionally is available immediately through clever client 'popping' and comprehensive client management tools.
nCall will improve user efficiency and increase business profitability, with operators able to answer more calls and take more messages in less time – with fewer mistakes too!
Combined with powerful messaging tools and deep billing scheme customisation, nCall offers the complete answering service software package.
Key features:
Easy to use operator interface or 'dashboard'
New operators can be taking calls professionally in just 15 minutes
Advanced and highly customizable message-taking tools
Custom form designer for specific clients' needs
Automatic logging of calls for client billing reports
Any number of different billing schemes and charges
Unique settings for each client & contact
Compatible with the majority of telephone systems and VoIP solutions
Fully scalable – from just 1 operator to over 100
Built-in softphone (optional)
Excellent customer support
Additional modules to add to core functionality
Tried and tested – nCall has been widely used and enhanced for over 15 years
nCall is a client-server application – the nCall server (and database) can be installed on-premise on a dedicated machine, or hosted in the cloud for a minimal hardware setup.
Technical details
nCall Server & Database
nCall is a client-server program that consolidates the various components that make up an answering service and delivers them in a single easy-to-use application that connects to a core server. The nCall Server can be installed on a user's PC, a dedicated Windows server, or hosted in a virtual environment. Using TAPI telephone system integration, nCall 'pops' the correct client information on screen by identifying the number the caller dialled. This allows operators to answer the call immediately, and with absolute professionalism. At the core of nCall is a powerful database able to store millions of calls, and thousands of client records, providing telephone answering services the confidence to grow without reaching any system limits.
New releases
nCall has been updated and improved for over 15 years, with customer feedback being our primary focus. We welcome suggestions and requests from any customer – big or small – and do our best to accommodate everyone without compromising the core product. We're also continuously looking ahead at advancements in telephony technology to make sure we're providing the best possible product to answering services worldwide.  
System Requirements
The nCall system is MS-Windows-based. The recommended minimum hardware requirements to run nCall efficiently are:
nCall server specification
Operating System: Windows 10, Server, 2012, 2016, 2019
Hard drive space: 500MB+
RAM: 8GB+
VPN connectivity required (if installing in the cloud via a VPS or VM)
nCall operator PC specification
Operating System: Windows 7, Windows 8.1, Windows 10
Hard drive space: 20MB
RAM: 4GB+
Compatibility
nCall communicates with your phone system via TAPI or, if deploying a hosted VoIP PBX, via your IP handsets. Whilst we don't recommend any particular telephone systems or handsets to our customers, we're happy to let you know what nCall is currently compatible with. Please get in contact with the nSolve team if you'd like to speak to us about phone system integration.  
VoIP handsets currently supported:
SMS providers currently supported:
2SMS
ClickaTell
AMD Telecom
Dynmark
GFI Faxmaker Service
Plivo
PrompText
SMS Eagle
Text Magic
Twilio
Most other email-to-SMS providers
HIPAA compliant messaging integration:
Feature list
| | | | |
| --- | --- | --- | --- |
| Features | nCall purchase | nCall rental | Optional extra |
| TAPI enabled call handling (answer, hold, transfer etc.) | x | x |   |
| Compatible with several VoIP phones | x | x |   |
| Built-in softphone |   |   | x |
| Instant account 'popping' upon receiving call | x | x |   |
| Advanced message taking tools | x | x |   |
| Automatic call logging | x | x |   |
| Custom message/order form designer | x | x |   |
| Fully scalable – no user limit | x | x |   |
| Bespoke settings per client | x | x |   |
| Rich text note sections for clients and contacts | x | x |   |
| Powerful database | x | x |   |
| Can be used remotely via VPN | x | x |   |
| Assign tasks | x | x |   |
| Create reminders | x | x |   |
| Generate billing reports | x | x |   |
| Monitor call stats and analytics | x | x |   |
| Built-in CRM tools | x | x |   |
| Open external files and web-pages within the client | x | x |   |
| Advanced contact searching | x | x |   |
| Third-party integration via nCall API Server |   |   | x |
| Fully brandable smartphone app |   |   | x |
| Client data import |   |   | x |
| Branded client web portal |   |   | x |
| Postcode look-up (UK & Aus only) |   |   | x |
| Dedicated customer support | 12 months included with first purchase | Included with rental | x |
| Access to customer-only web forum | x | x |   |
| Regular updates and additional features | 12 months included with first purchase | Included with rental | x |
| HIPAA compliant messaging integration |   |   | x |
| Software training services |   Not included. Compulsory for new users. |   Not included. Compulsory for new users. | Advanced training is also available. |
| Install and setup service |   |   | Contact us for pricing |
Feature not listed? Ask us about it!
FAQ
General
Why nCall?
nCall is a mature feature-rich software package, developed over the past 15 years by experienced software engineers. nCall is a product you can trust.
Who is nCall for?
nCall is for new and existing telephone answering services, virtual receptions & PAs, inbound call-centres or any other business looking for advanced inbound call handling software.
What is the SMV package?
SMV is our Support, Maintenance and New Versions package. It's an optional subscription service to ensure you're always running the latest version of nCall and have technical support from the nSolve team whenever you need it. You get the first 12 months of SMV for free with your first licence purchase.
What is telephone answering service software?
Telephone answering service software integrates with your telephone system so that client information 'pops' on screen, based on the number the caller dialled. The call is then completely dealt with within the software program. Software such as nCall also consolidates many other services into a single application such as message taking, order taking, billing reports and CRM.
What else does nCall do apart from answer and transfer calls?
Lots more… get in touch to watch our extensive demonstration video to learn about the many features of nCall. Short on time, click here to see nCall's list of features.
We use VoIP – is that okay?
Of course! nCall currently supports Snom and Yealink VoIP handsets, or you can use it's own built-in softphone, called Buzz.
Some of my operators work remotely – can they still use nCall?
Yes! By using a VPN, remote operators can connect to your nCall server from anywhere with a steady internet connection.
nCall looks great, but if I make the change how long will it take to train my staff?
When nCall is installed and set up, your operators can be up and running in under 15 minutes!
Is nCall suitable for start-up answering services or virtual receptions?
Is nCall a web-browser app, or based in the cloud?
Neither – nCall is installed on your Windows-based PC or laptop, meaning you're not beholden to internet speeds or web-browser issues. Because nCall is installed locally it runs super quick, too!
If nCall is installed locally, do I need a powerful computer to run it?
No, the system requirements are actually very low. You can see the required specs here.
I'm not sure if nCall will work with my current setup?
nCall is compatible with most telephone systems (traditional and hosted) but if in doubt, get in touch and let us know what systems you're currently using, and we'll let you know if it will work.
I want to go ahead with nCall for my answering service, but I'm worried about the transfer and setup?
Our dedicated support team will be happy to help you get up and running, handling the installation and setup remotely for a small fee. We have a variety of optional services (e.g. Data Import) that will help you transition to nCall. Get in touch for further information.
How much is nCall
nCall licences can be purchased or rented, with prices decreasing as you add more operators. We do our utmost to keep costs to a minimum but we welcome you to get in touch for further information.
Does nCall support message taking?
nCall uses a very advanced message action tool that allows each individual contact associated with your clients a set of unique message actions in case the contact is busy or unavailable. nCall can send emails, SMS, and pager & fax messages to suit your clients' needs.
Can I backup the nCall database?
You host all of your own data on your designated nCall server, and nCall will back up this data automatically as often as you like, at a time that you decide.
Additional Modules
Next step
There is much more to nCall – we highly recommend you get in touch for a full demonstration.